In this article we will examine the creation of a prospect and the prospect profile. A prospect is someone that is interested in your gym but may not be ready to become a full member. You can still communicate with your prospects and prospects are important to your gym as they will hopefully become full members of your gym and by capitalizing on your prospects you will in the end increase your bottom line and increase your membership base.
Accessing Prospect's Profile:
To access a prospect's profile, you can either search for them in the top search bar:

Or alternatively, navigate to 'Sales' > 'Prospects', select 'View All' and then use the filters to search for specific prospects.
Once you are on a prospect's profile, it will look similar to the below:
You will see that the profile is split into three sections. Prospect details on the left, event log in the centre, and event creation on the right.
Prospect's Details:
Let's look at the prospect's details on the left. Clicking on 'edit' allows you to change the prospects details, such as marking them as signed up, changing who 'owns' the prospect (which member of staff they are assigned to), along with changing the prospect's state, basic details, and their type and source. (Please note that although the prospect's status is shown at the top of the column, the ability to change this prospect state is further down the page with a dropdown menu – see below):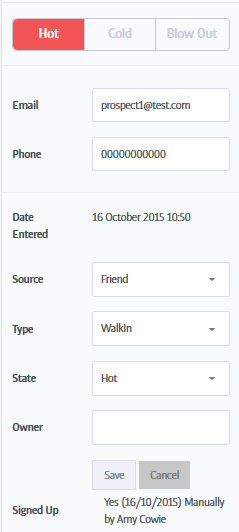 Once any changes have been made here, click 'save'.
Adding A Picture To Your Prospect:
Also, you have the ability to add a picture for your prospect similarly to how you can add a picture for a member. If you click the button titled 'Change Photo' it will allow you to select from two different options to set a photograph for the prospect. (Please see image below)
Your two options are; 1) choose to capture a photo from a webcam or you can 2) upload a photo from your device. (Please see image above that shows your two options) If you choose to take a picture from a webcam just select 'Capture photo from webcam' and then click 'capture' once you are happy with the picture you want.
If you want to upload a picture from your device, select that option and then navigate to where you have your photo saved on your device. Use your mouse to select what area of the photo you want to use, then click 'Crop' and this will change the photo for your prospect.
Sending An Email To The Prospect:
Next to the 'edit' button there is the ability to send an email to the prospect. Clicking this will bring up the following box: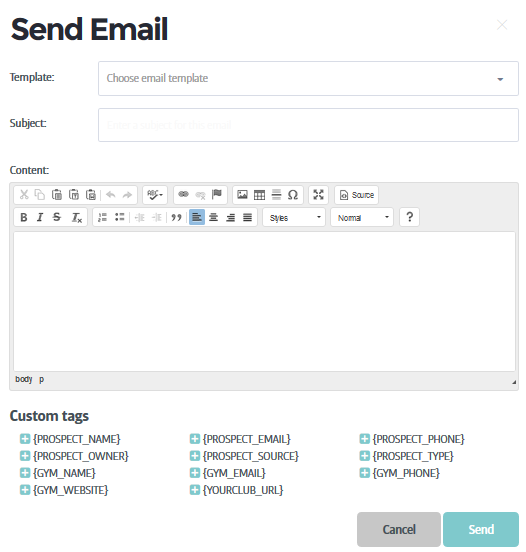 Here, you can type the content of your email, choosing a ready made template if desired, and add custom tags to pull information through into the email. Once an email has been sent, it will automatically be added to the event calendar, and you will have the option to view that email.
Event Creation:
The event log and event creation on the prospect's profile go hand in hand. You have the options in the event creation to either plan an action (such as a call to the prospect), to log an action (such as an email being sent), or to 'do' an action (such as if the prospect walked into the club to query memberships). Creating these will add a note to the event log timeline, and also add any planned actions or logged actions into the main prospect calendar. Clicking 'Back to Calendar' from the prospect's profile will take you directly to the prospect/sales calendar.