If a member is on a package where Stripe is the main payment provider taking each monthly payment, and needs to update their card details, they can do this from the members' area.
First, they will need to click on the icon below:
This will bring up the following side bar: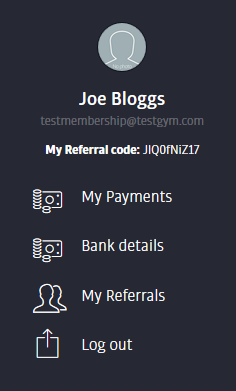 From here, the member can either click 'My payments' or 'Bank details'. Clicking on 'My payments' will bring up the member's membership details, and give them the option to change their card:
Clicking on 'Change card' within the payments screen, or clicking on 'Bank details' in the side bar both take the member to the following screen, where they can update their bank/card details:
If the member has auto top up enabled, they will receive a warning message when trying to remove a card which is assigned to auto top up.