The prospect system is put in place to maximise on sales by capturing those who have shown interest in becoming a member, but who haven't gone the whole way to signing up.
There are two categories for prospects on Membr: Web drops offs and prospects.
To access the prospecting section of the site, navigate to Sales, and in the dropdown menu you will see a list of functions relating to prospects. These are Prospects, Web Drop Offs, Prospect Pathways, Prospect Mass Email, Prospect Mass Email List, and Forms (as shown below):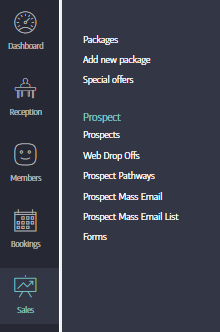 In addition to these features here, there are also some additional settings relating to the prospecting system, where you can customise how your site treats prospects.
By clicking on Sales > Prospects, the first screen you come to will give you quick statistics on your prospect/sales information:

This is an easy way to get quick figures from your prospecting system, and this dashboard page also includes a calendar where you can click and add an event. This page also gives you the option to Add a Prospect.
Each prospect who is in your system has a profile, which you can visit and edit details. The prospects also have a status, which can be 'hot', 'cold', or 'blow out'.