Please ensure that you have created your bookings before reading this article. 
1. Navigate to Bookings > Bookings Calendar. You should be able to see that the bookings you have previously created are on the right-hand side of the screen:
You will be able to click and drag any of these bookings onto the calendar, for the date and time you require.
Once you have dragged the booking onto the calendar, a box will appear to finalise the details for your booking. There are four steps to setting up this booking. In step 1 - Basic Details – you have the opportunity to change the default settings that were set up when the booking was created. You can also edit the time of the booking.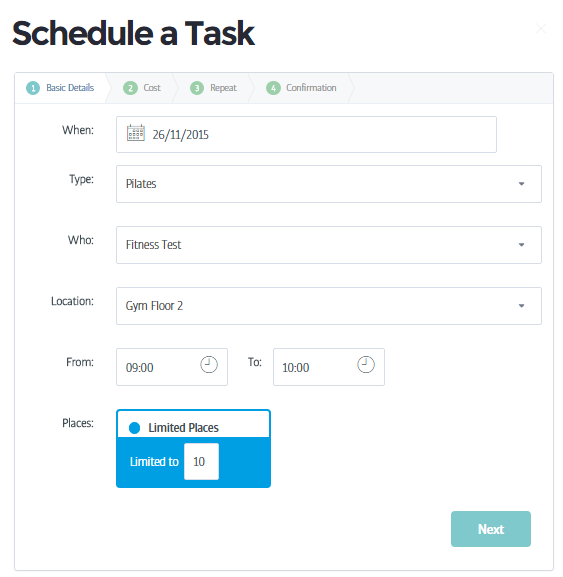 2. For step 2, decide if you are adding any pre-set costs to the booking (the inclusive and exclusive costs you set up when the booking was created). Click Next.
3. For step 3, you have the option to repeat the booking. You can repeat daily, weekly, or monthly. You can also decide how often the booking will repeat. For example, if you selected it to repeat 'weekly', you can decide if this will be every 1, 2, or 3 weeks, etc. You can also dictate if the class runs more than once a week, so it can be set to be weekly every Monday and Wednesday.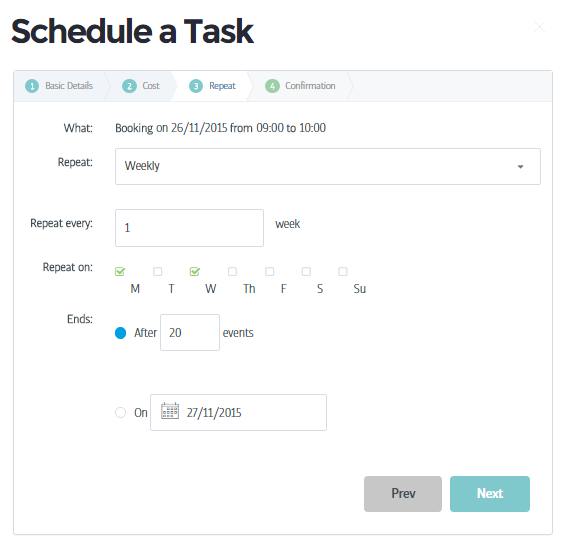 You then need to add the duration of the repeat booking, either for a number of sessions (maximum 50), or set the repeated sessions to end on a particular date (maximum 6 months ahead).
4. For step 4 – Confirmation – you decide if you would like to notify your member of staff that this booking has been added, via email. Check the details and finalise your booking.
Your bookings should now appear on the bookings calendar:
You should also note, that next to the time for the new booking you have just added, will appear the capacity for that specific booking. In this example, there are 10 spots for the Pilates booking on 2/12 and there are 0 people signed up for this booking. As people start to sign up for the booking, that number 0 will start to show the total amount of people signed up.
You can also edit the bookings from the calendar directly by selecting a booking, clicking on the cog symbol, and selecting 'edit':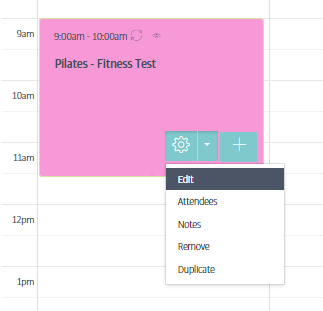 For more information on editing your bookings, please click here.