Please ensure that you have already created your bookings. To access a guide on how to create these, click here.
1. Navigate to the Bookings icon, select Bookings, and you will see a list of your booking types.
2. Here, you can turn on or off the visibility of bookings by selecting the eye icon:

You can also edit each booking by clicking on the cog icon:

(In addition to this, you can also edit a booking by navigating to Bookings,
Bookings Calendar and selecting a booking on the calendar.)
3. By selecting the cog, you have the option to Edit the booking, as well as additional options to view attendees, notes, remove and duplicate the booking. These are explained below:
• Edit: By clicking this, you will be able to edit a single booking, or be presented with three options if you have a repeat booking. These options are 'Edit just this booking' (all other bookings in the series will remain the same); 'Edit all of the following bookings as well as this one'; or 'Edit a number of future bookings' (for example, the next 3 bookings). This will then take you to the booking details page, where you will be able to edit details of your booking.
• Attendees: Here you can see a list of member booked onto the session, shown in a list of either 10, 25, or 50 per page. Clicking 'add attendee' will allow you to search for a member and manually add them to the booking. You can click the cog next to any attendee and remove them from the list, or mark them as attended or did not attend. (You can ensure members auto attend a class once they access the gym by going to additional settings.)

There is also a waiting list tab. People will automatically be added to the waiting list if the class is full, and moved into the attendees list if a space becomes available.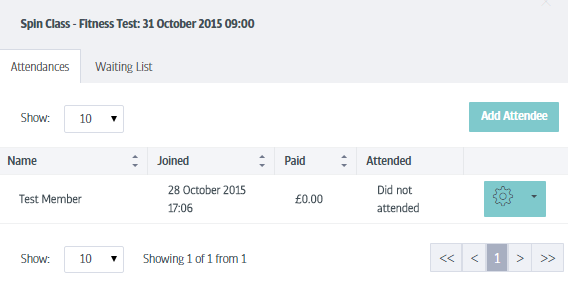 • Notes: Use this function to add notes to a booking. These notes are for your record and will not be visible to members.
• Remove: You can remove a booking from the calendar. If this is a repeat booking, you have the option to remove one booking, all bookings in the series, or a number of bookings in the series.
• Duplicate: This duplicates the booking, so that you can copy across all of the details you have set.
• In addition to using the cog icon to edit bookings, you can also drag the booking across the calendar to another day/time, and also drag the top and bottom of the booking box to shorten or lengthen the time of the booking.